Prof. Dr. Loren T. Stuckenbruck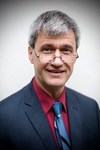 Lebenslauf
1960:
Born in Tübingen, Germany

1977 – 1981:
focused on biblical studies and Greek at Milligan College in Tennessee (B.A.)

1981 – 1982:
special language studies at Butler University in Indianapolis

1982 – 1986:
Master of Divinity at Princeton Theological Seminary
1986 – 1988:
after two years in Tübingen and Heidelberg on a Fulbright Grant, did the Ph.D. degree at Princeton Theological Seminary (1988 – 1992; awarded 1994)
1992 – 1994:
Taught at Christian-Albrechts-Universität Kiel (Wiss. Ang., Wiss. Asst.), then as Lecturer, (1994 – 1999), Reader (1999 – 2003)
2003 – 2009:
B. F. Westcott Chair in Biblical Studies at Durham University UK
2012:
Came to LMU after being Richard Dearborn Professor of New Testament at Princeton Theological Seminary (2009 – 2012)
since January 2010:
In addition, has honorary professorships at Durham University UK
since April 2011:
University of Aarhus
Spring 2012:
Lady Davis Visiting Professor at Hebrew University of Jerusalem.
Primary or Co-Supervisor for 28 Ph.D. successful degree candidates, member of dissertation committees for three further completed Ph.D.'s.
Member of the Disciples of Christ/Independent Christian Churches, in which he was ordained to ministry in 1982.
Forschungsinteressen
Dead Sea Scrolls and Related Literature from the Second Temple period.
New Testament theology, especially theological anthropology, the problem of evil, "apocalyptic" thought, and the understanding of God.
The study of Aramaic, Hebrew, Greek, and Classical Ethiopic Texts relating to the Second Temple period.